Basic Info.
Model NO.
MX3 air mouse backlit
Function
Mouse/Keyboard/Remote Controller
OS
Windows, MacOS, Android, Linux
Application
Laptop / Tablet / TV Box / Mini PC
Receiver
USB 2.0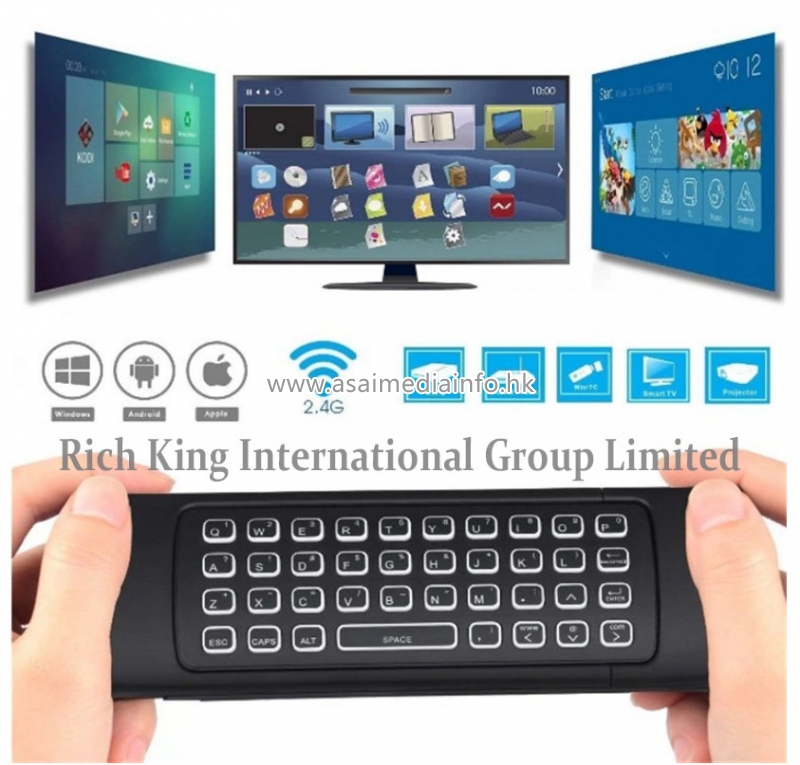 2.4G Air mouse/Somatosensory remote control
Model:MX3 air mouse Backlit
Introduction
1. 2.4G Fly mouse
2. 2.4G Wireless keyboard
3. 6-Axis Inertia Sensors, support somatosensory games
4. IR control + IR learning for all keys
5. Mouse Cursor On/Off
6. Supports the systems of Android, Windows, MacOS, Linux
7. Distance of remote up to 10 meters
Feature
1. 6-Axis Inertia Sensors built-in
2. 2.4G RF wireless technology, high stability;
3. 2.4G wireless keyboard input
4. IR control and IR learning for all keys
5. Plug and play, CD-ROM installation is free, optimization and custom designed for Android system, achieve application of intelligent human-computer
interaction and enhance the feel of experience..

Product Specifications

Sensor 3-Gyro + 3-Gsensor
Amount of key 81
Control distance >=10m
Battery type AAA x2
Working Power Less than 10mA in the work condition without voice input, less than 15mA in the sate of voice input
Standby Power Microampere, almost no power, in line with the European "Energy Star " environmental standard
Material Plastic and Silicone
Color Black
Size 172*52*19 MM
Weigt About 100g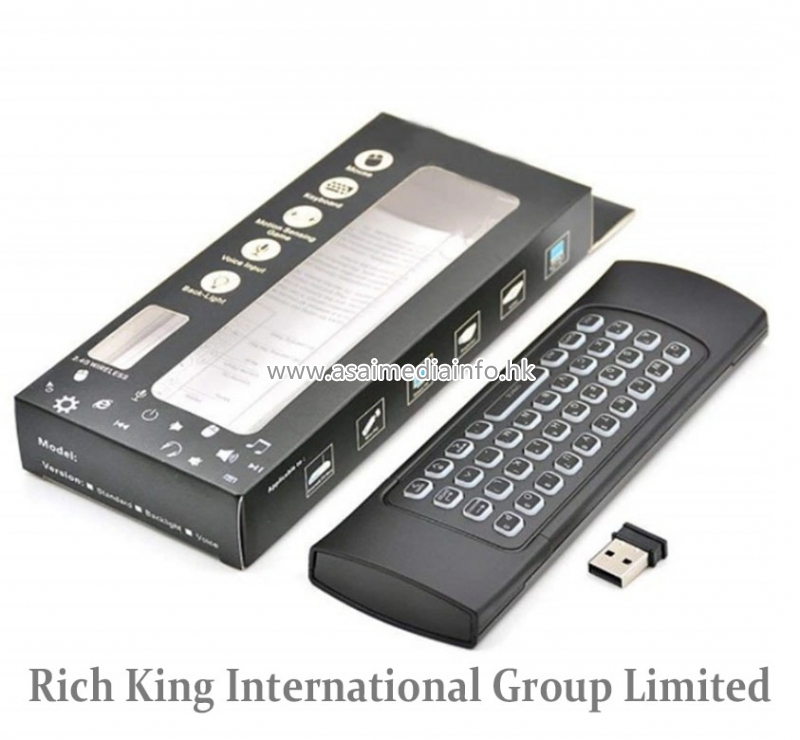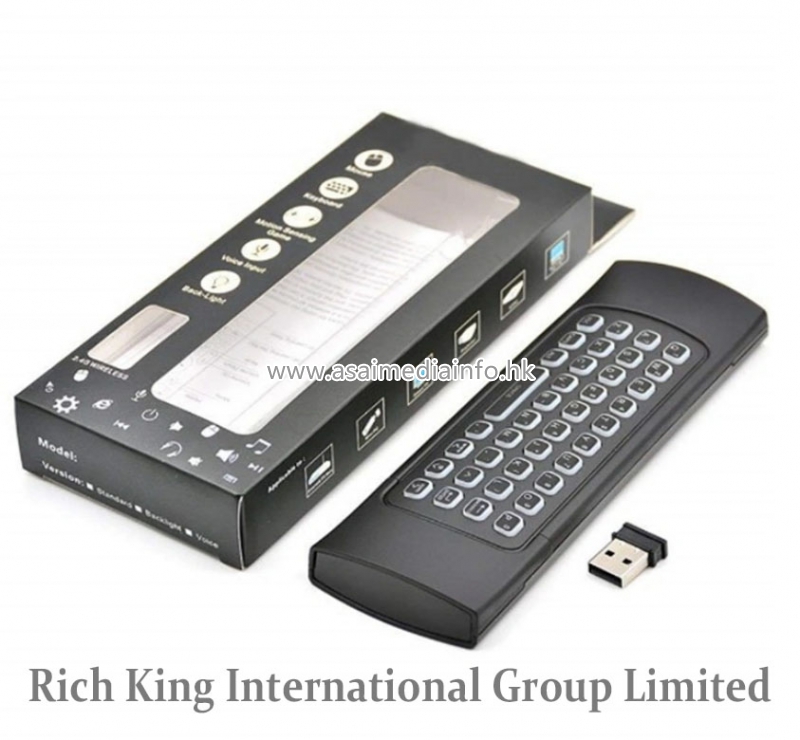 High Light Features
multifunction Remote Controller
Arouser Remote Keyboard IR Learning
Non-directional remote control;
Anti-shake algorithm Air-mouse;
support Motion Sense Games;
Features:
Air-mouse;
Standard Keyboard layout;
IR remote;
IR Learning function;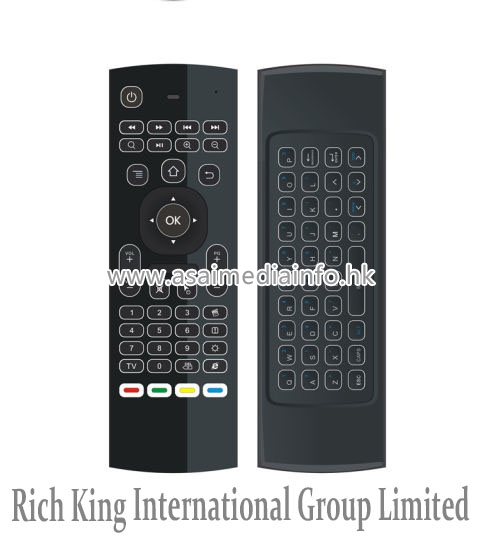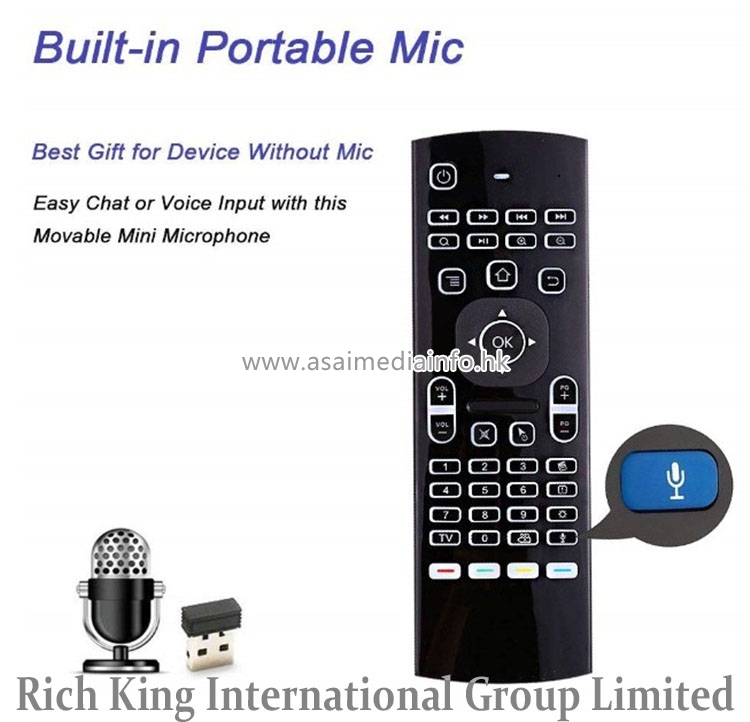 Technology Spec:
2.4G RF wireless radio frequency techniques;
Sensors: 6-Axis(Gyroscope +Accelerometer);
Operating range: >10m
Battery: 2*AAA batteries
Rated Current: 15mA
Standby Current: <20μA
Rated Voltage: 3.0V
Key numbers: 87 keys
Material: ABS Silicone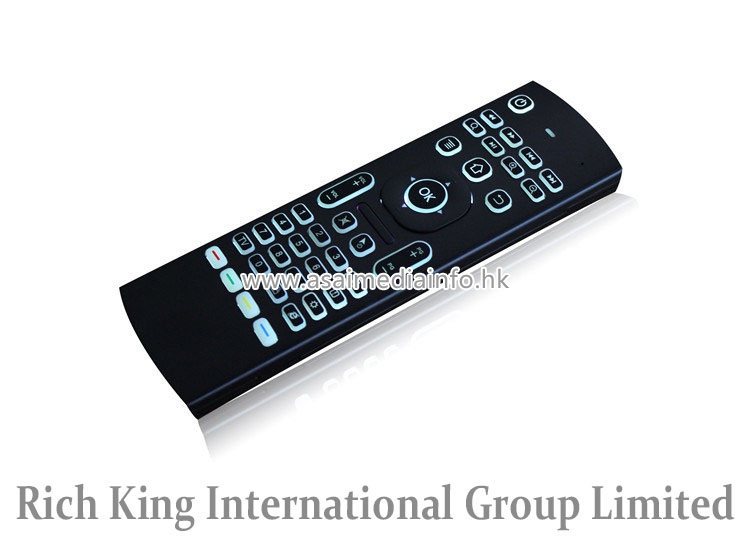 Compatible:
Windows, Android, Mac OS, Linux.
Devices: PC, Smart TV, Set-top-box, Android TV Box, Mac, Mini PC
TEL : 26366111
FAX: 2636 6555
EMAIL: keith@richking.com.hk
Rm 17,14/F,Yee Lim factory Building, 32-40 Kwai Ting Road, Kwai Chung