Grand Complications for the 21st Century

A major player in watchmaking history since the 19th century, Jaeger-LeCoultre celebrated 180 years of watchmaking, starting in its founder's original workshop, in 2013, and continued to present new horological innovations at the 2014 SIHH. In Chapter One of our serialized history of the brand, we documented the years 1559-1907, and the founding of the Jaeger-LeCoultre watch brand. In Chapter Two, we covered the introduction of such iconic Jaeger-LeCoultre timepieces as the Duoplan, the Atmos clock, and the Reverso, covering the years 1912 to 1931. In Chapter Three, we revealed the origins of the Memovox, Jaeger-LeCoultre's groundbreaking alarm watch. In Chapter Four, we explored more modern timepiece collections from the late-20th to early 21st Century, including the Master Control and the first complicated Reversos. Now Chapter Five brings us nearly up to date with 21st-century horological marvels such as the Gyrotourbillons.
Dominated by the spirit of invention, the first years of the 21st century are proving to be some of the most fertile in the entire history of Jaeger-LeCoultre. Since the year 2000, the manufacture has created no less than 75 new calibers, including Grandes Complications, tourbillons, minute repeaters, chronographs, perpetual calendars, 15-day power reserves, the first lubricant-free caliber, et cetera. In parallel, over 80 patents have been filed to protect inventions relating both to movements and cases.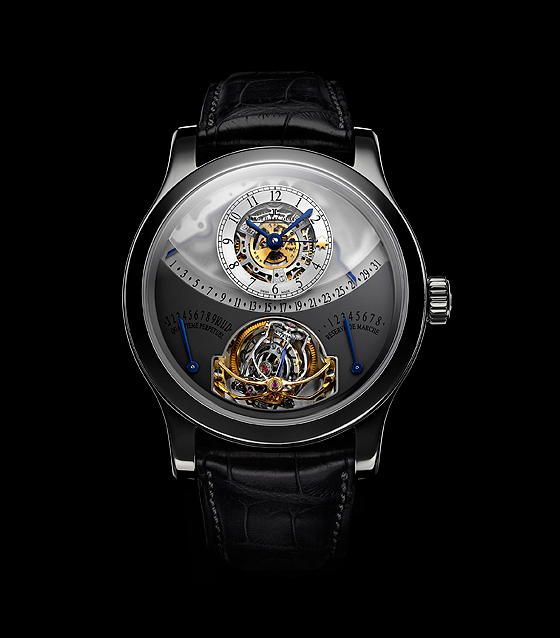 From ultra-complicated models to Haute Joaillerie creations and from complicated Atmos clocks to AMVOX, Master Compressor Diving, Reverso Squadra and the Duomètre watches, Jaeger-LeCoultre is steadily asserting itself as the reference in fine watchmaking. The 21st century also marks another crucial stage in the history of Jaeger-LeCoultre: the creation of the first Grande Complication wristwatches (housing at least three major complications in a watch). In 2004, the watchmakers of the manufacture created the Gyrotourbillon I, a superlative watch featuring a tourbillon gravitating on two axes, along with a perpetual calendar with double retrograde indicators and a running equation of time. To crown it all, it is endowed with a full eight days' power reserve. Its Jaeger-LeCoultre Caliber 177 comprises no less than 679 parts. As for the some 100 components in the spherical tourbillon, they weigh barely one-third of a gram.