Advertising gifts and premium offer the greatest potential for growth in 2014, according to exhibitors and buyers at this year's HKTDC Hong Kong Gifts & Premium Fair. With growth being driven by the revival of commercial activity in the developed markets, there is also a renewed emphasis on environmental friendly gifts and packaging. Suppliers are also keen on innovative products and high-tech manufacturing techniques.
The findings came in a survey of 1,000 exhibitors and buyers that took place during the 27-28 April event. Overall, both groups were largely positive with regard to their 2014 sales prospects, with international buyers seeing Asia – and, particularly, the Chinese mainland, South Korea and ASEAN – as their most promising markets over the next two years.
Aside from the headline trends, a number of other developments were also seen as reshaping the market. The increased consumer penchant for purchasing online, for instance, was seen as undermining the traditional role of distributors, according to several retailers surveyed. Additionally, even though consumer confidence has improved over recent years, many buyers still prefer to maintain low stock levels, citing the highly competitive nature of the market and fast-changing consumer tastes as the key factors in their decision. Typically, they are now ordering smaller quantities of individual items in order to keep up with market changes. As a consequence, this has also led to demand ever shorter delivery lead times.Overall, though, buyers considered themselves satisfied with Hong Kong giftware suppliers, particularly in the areas of product safety and compliance with environmental standards.

Asian markets spur positive 2014 outlook
Respondents were largely positive with regard to their sales outlook for 2014. Among both buyers and exhibitors, 83% expect overall sales to increase or be maintained at the same levels as last year. In both groups, the median rate of increase was seen as 10% (among those expecting an increase).

Overall sales' expectations for 2014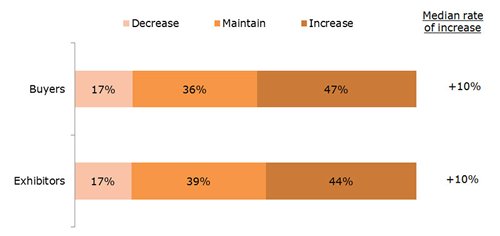 Source: HKTDC survey
Two-thirds of exhibitors said they expected their 2014 production or sourcing costs to increase, at a median rate of 10%. Only 34% of exhibitors, however, said their FOB prices would increase, with a lower median rate of 7%. This indicates 32% of the surveyed exhibitors may not pass on their increased costs to buyers this year. Despite this, some 63% of buyers expected their sourcing costs to increase, while only 44% of buyers surveyed predicted higher prices at the retail level. The median rate of increase was 10% for both buyers' sourcing costs and for expected retail prices.
Expected changes of price/costs for 2014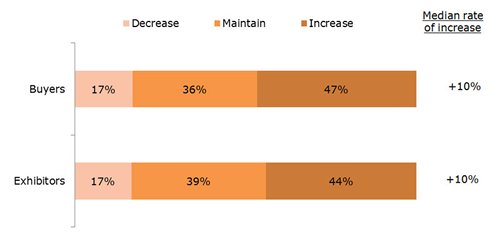 Source: HKTDC survey
With regard to market prospects over the next two years, buyers have the most faith in Asia. In order to evaluate the relative strengths of the varying geographic markets, buyers were asked to rate all of the territories on a 1 to 5 scale, with "1" indicating that a market was seen as "very unpromising" for the next two years and "5" indicating that it was "very promising". The results showed that top three most promising markets in the sector were seen as the Chinese mainland (3.77), South Korea (3.54) and ASEAN (3.52). By comparison, buyers were less optimistic about many of the developed markets – Australian and Pacific (3.52), North America (3.47), Western Europe (3.47) and Japan (3.44).

Buyers' view on market prospects for the next two years (2014-2016)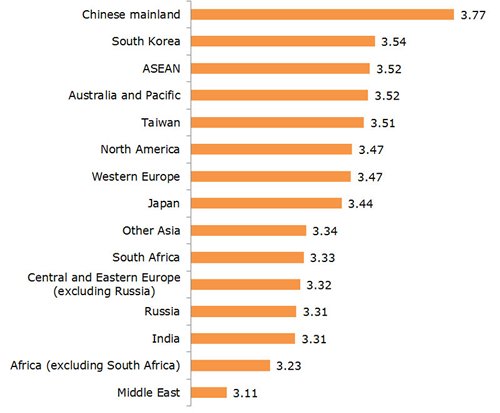 Note: scale of 1 to 5; 1 denotes very unpromising and 5 denotes very promising
Source: HKTDC survey
Advertising gifts in demand
In terms of category-specific expectations, most respondents saw advertising gifts and premium (19%) as offering the greatest 2014 potential for growth, followed by green gifts (11%) and tech gifts (11%). According to a number of respondents, the increased demand for advertising gifts was due to the revival of business activities in the developed markets. The growing popularity of electronic gadgets, as well as increased sensitivity with regard to environmental issues, have also had an impact, with a number of buyers citing these as major factors in their decision-making process. A similar trend can also be discerned in the personal gift sector, with buyers seeing environmentally-friendly gifts and premium as likely to appeal to the more eco-conscious young consumers.
Categories with biggest potential for 2014

Source: HKTDC survey
The prevalence of high-tech and environmentally-friendly gifts was a trend seen, pretty much, across the board. Overall 76% of buyers indicated their intent to source environmentally-friendly items, with 62% expressing their intent to target technological products.
A number of exhibitors seemed to have already picked up on this trend, with innovative technological items on wide display. Examples here included 3D lenticular printing technology, stationery and bookmark items, as well as one company that had developed a scanner mouse capable of accurately converting printed text, tables and pictures into a digital format.

Product trends for 2014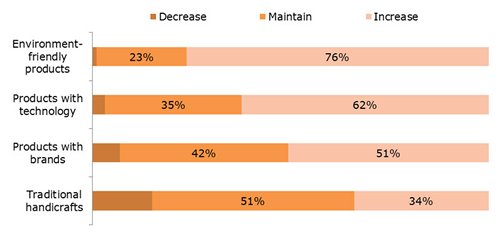 Source: HKTDC survey

Finding gifts ideas online
As an additional step, buyers were asked to rate, on a 1 to 5 scale, what they saw as the major concerns of consumers in their markets, with "1" denoting "completely disagree" and "5: denoting "completely agree". The results showed that buyers largely agreed that consumers of gift items were increasingly concerned about quality (3.97) and product design (3.93), with price (3.82), after-sale services or warranty (3.81) and branding of the products (3.61) following on behind.
A number of respondents further commented that consumers now opt for simple but stylish designs, not just on the gifts themselves but also in terms of packaging. Correspondingly, suppliers were keen on simplifying gift packaging, with lightweight and eco-friendly materials seen as a preference. This was also seen as reducing transportation and overall packaging costs.
Buyers' view on consumer preferences

Note: scale of 1 to 5; 1 denotes completely disagree and 5 denotes completely agree
Source: HKTDC survey
As in other product sectors, consumers were seen as increasingly likely to shop online for gift items. According to the buyers surveyed, consumers do more price comparisons (3.96), increasingly rely on online reviews or social media for product information (3.93) and make more online purchases (3.91). As an additional online trend, several retailers indicated their intention to source directly from suppliers (and request shipment from suppliers to end-customers), thus bypassing traditional distributors.

Buyers' view on consumer behaviour

Note: scale of 1 to 5; 1 denotes completely disagree and 5 denotes completely agree
Source: HKTDC survey

Hong Kong suppliers: good safety and environmental standards
Overall, gifts and premium buyers indicated they had changed their sourcing practices over recent years. In line with this, 40% of buyers said they now place smaller orders for each item; 38% said they require shorter delivery lead times and 29% said they now maintained lower stock levels.
According to individual buyers, even though consumer confidence has improved in recent years, they still prefer lower stock levels as the market is highly competitive and consumer tastes tend to change quickly. In light of this, they now order smaller quantities in order to keep up with shifts in the market, while also expecting shorter delivery lead times.

Buyers' change in sourcing practices

Note: Multiple answers allowed
Source: HKTDC survey
Finally, buyers were asked to indicate their degree of satisfaction with Hong Kong's giftware suppliers. This was on scale ranging from "very unsatisfied" ("1") to "very satisfied" ("5"). On average, respondents were satisfied in every respect, with ratings between 3.41 and 3.9 given for every category. In particular, buyers were most satisfied in the following areas – compliance with safety regulations/standards (3.9), product quality (3.85) and compliance with environmental regulations/standards (3.83).

Buyers' evaluation on Hong Kong's giftware suppliers

Note: scale of 1 to 5; 1 denotes very unsatisfied and 5 denotes very satisfied
Source: HKTDC survey
Profile of respondents
437 exhibitors – 52% from Hong Kong, 42% based in Asia (excluding Hong Kong), 6% from the rest of the world
553 buyers – major markets in Asia (54%), Europe (18%) and North America (16%)
The HKTDC Hong Kong Gifts & Premium Fair took place from 27 and 28 April 2014 at the Hong Kong Convention and Exhibition Centre