The Federation of Swiss Watch Industry (FH) recently released the latest Swiss watch export data. The performance of the top 6 export markets: China still tops the list and eventually returns to positive growth (+47.7%); Hong Kong takes second place (-54.6%), and the United States Ranked 3rd (-57%), Germany 4th (-21.3%), Singapore 5th (-26%), and UK 6th (-44.7%).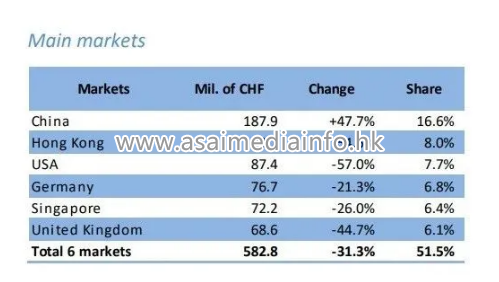 According to the analysis of the report, China was the first market affected by the epidemic, but it was also the first country to recover. It recorded a year-on-year increase of nearly 48% in June, successfully alleviating the overall decline. The total value of Swiss watch exports in June 2020 was 1.132 billion Swiss francs, a decrease of 35.1% year-on-year, but an increase of 70% from the previous month (656 million).

The performance of the Hong Kong market is still sluggish, and the poor performance of Swiss watch sales in June is expected. Recently, the second wave of new crown pneumonia epidemic broke out in Hong Kong. The road to recovery is still long.